Beyond Traditional PCs - How Mobile Devices Are Changing the Game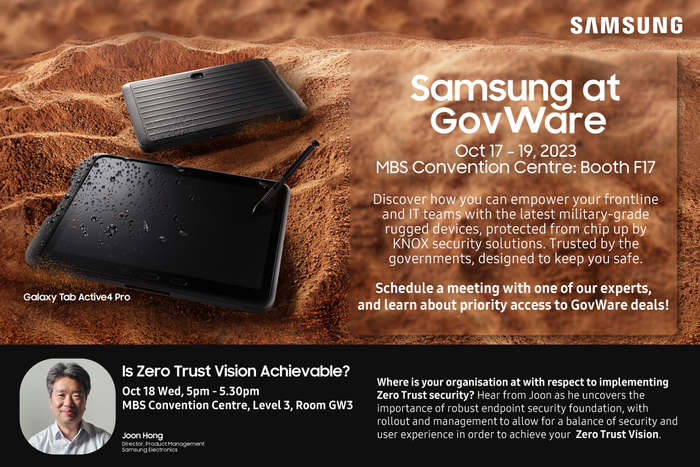 The world is evolving, and so are our work tools. Mobile devices have become indispensable in the workplace, as workers increasingly favour them over laptops and desktops.
In this new era of remote work, mobile devices have become a lifeline for many office workers. Acting as always-connected digital gateways, these devices readily connect them to colleagues and put access to crucial work resources at their fingertips.

The changing role of mobile devices
This shift in preference can be attributed to the sheer convenience and portability of mobile devices. The increasing power and sheer capabilities of these gadgets also play a role, as they can now handle tasks once reserved for traditional PCs.
Mobile devices were used more as a supplementary device in the past but that has changed. While the use of laptop and mobile devices was split 75%-25% before the pandemic, it is now more of a 50%-50% split today.
– Hendra Wiratno, Knox Product Lead - Solution Architect, Samsung
The pandemic arguably accelerated the transition by proving that knowledge work can happen outside the four walls of the office. The result is a massive surge in demand for mobile devices in the enterprise, as companies rushed to equip their employees with the mobile tools they need to work from anywhere and at any time.
The uptake was swift. Where knowledge workers had previously looked to mobile devices as supplementary devices to their laptops, they are now turning to smartphones and tablets for many of the tasks they used to boot up their laptops for.
For instance, smartphones are used heavily for video calls or for staying in the loop through various collaboration software. Tablets, with their larger, more comfortable screens are starting to replace PCs for productivity apps or enterprise software, which are increasingly available from mobile apps or a web-based interface.
It is hence no surprise that enterprises are now taking a closer look at mobile devices not just for front-liners in industries that rely on fieldwork or in industries such as manufacturing, logistics, or warehousing, but also for knowledge workers in the office. This broadening of mobile device usage across various departments highlights the growing importance of these tools in today's work environment.

Securing mobile devices
While mobile technology has undoubtedly enhanced productivity, management and security remain the biggest challenges. It is hardly surprising, considering how mobile devices are used to access the same resources as a corporate laptop - from confidential documents to internal correspondence, as well as sensitive ERP and CRM systems.
Mobile Device Management (MDM) is essential to address these concerns. By providing centralised control over devices, an MDM enables IT administrators to enforce security policies, remotely wipe lost or stolen devices, and monitor usage patterns across all devices. Additionally, MDMs can help ensure that company data is encrypted and compliant with industry regulations.
Yet not every MDM integrates with existing solutions used to manage and secure the PCs that are currently deployed. As enterprises adapt to this new landscape, IT departments must find ways to manage and secure both mobile devices and traditional PCs. This is vital if organisations were to implement the same IT policies across various devices and minimise gaps in defences that can be exploited.
Finally, another often-overlooked aspect of mobile device management is firmware management. While upgrading to the latest firmware is typically a good idea, new firmware updates must first be tested to ensure compatibility with enterprise applications.
In the same vein, users who continually defer an update also put the corporate network at risk. For these reasons, the ability to monitor and manage firmware is an important capability that enterprises should not overlook.

Segregating work and play
Experienced security managers know that the best security measures are moot if stifled users actively seek to circumvent them. To prevent this, it is crucial to strike a balance between security measures and user experience by creating a separate, secure workspace on enterprise mobile devices.
By segregating and keeping work-related data and apps isolated from their personal data, enterprises ensure enterprise data security management and prevent enterprise data leakage. On their part, employees can continue using their favourite apps and services without fear of compromising the security of the company's sensitive information.
Moreover, the implementation of a separate workspace on personal devices allows IT departments to enforce security policies and manage work-related apps and data without interfering with the user's personal space. This approach not only enhances security but also respects the privacy of employees, fostering a more positive work environment.

Samsung Knox: An enterprise platform for devices
The Samsung Knox platform is an industry-leading ecosystem designed to provide best-in-class security, policy management, and compliance capabilities to enterprise mobile devices. First launched in 2013, there are over 70 million devices managed under Knox today.
Apart from features such as firmware management (Knox E-FOTA) and unified endpoint management (Knox Suite), Knox offers key features to support Zero Trust that conform to the key pillars as outlined in Singapore's Government Zero Trust Architecture (GovZTA) framework.
To ensure support for the greatest range of devices including PCs, Samsung works with multiple partners such as Microsoft, VMware, and Dell, and even other MDM solutions to support enterprise deployments.
Samsung will be present at GovWare 2023, Asia's premier cybersecurity event. Learn more about Knox and check out Samsung's range of rugged mobile devices designed for frontline workers at Booth F17.