From the Boardroom to the Network: Holistic Cyber Solutions for a Hyperconnected Era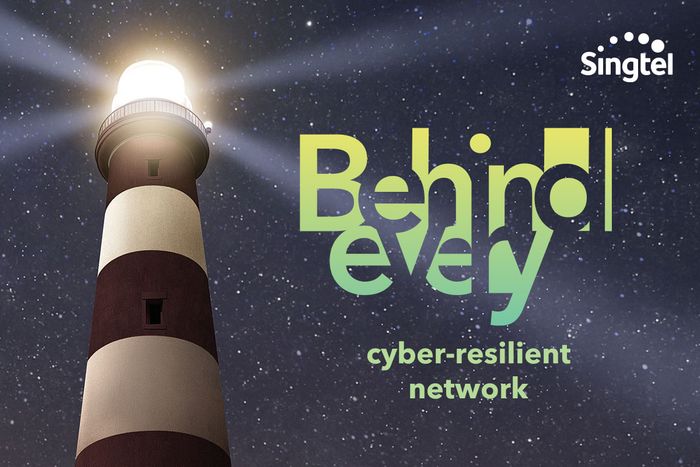 From temporary disruption to potentially causing massive financial damage and irreparable harm to reputation, cyber security has evolved into a strategic priority that can make or break a business.
As digital systems become even more sophisticated and interdependent, organisations must do more to adapt and fortify their defences to protect sensitive data, maintain customer trust, and safeguard their bottom line. This means understanding the new dangers and adopting a reinvigorated approach to cyber security.
Businesses I speak to generally have the same problems with manpower: It's hard to find the right people and expensive to retain them. A fully managed network-based solution alleviates that aspect of the challenge, allowing them to focus on other aspects of cyber security. – Alan Phua, Head, Cyber Security, Enterprise Business, Singtel
The hyperconnected threat landscape
The world has grown increasingly interconnected as we embrace the cloud and connected systems. While the benefits of connectivity are obvious and compelling, the heightened connectivity does bring greater complexity and a dramatically expanded attack surface that bad actors seek to exploit.
Today's modern enterprise architecture stretches across various platforms, devices, and applications, making a uniform security posture difficult. Moreover, a reliance on multiple clouds and service providers further complicates security management and increases the risk of inadvertently introducing security vulnerabilities.
At the same time, technologies such as AI and automation have beefed up the cyber arsenals of attackers. The former has opened the doors to new social engineering methods that let attackers craft personalised content indistinguishable from legitimate ones. In the latter, automated techniques that can iterate through multiple attack strategies using advanced tools are also increasingly common, putting defenders on their heels.
With 62% of Asian markets acknowledging that they are struggling to keep up with the evolving threat landscape, it is clear that traditional security measures are no longer adequate. Indeed, a staggering 90% of cyber security professionals in Singapore said their cyber security infrastructure was "siloed".
To confront the new challenges, enterprises must step up their security measures to counter the risk stemming from the changed threat landscape. As the window between breach and data exfiltration – or encryption – narrows, it is vital that organisations decrease detection and response time.

A boardroom conversation
The growing threat of cyberattacks can be felt all the way to the boardroom. Responsible for setting the strategic direction, overseeing management, and ensuring financial stewardship of the business, the sheer impact of a successful cyber-attack on business operations means that board members must now pay closer attention to cyber security initiatives.
The potential legal and financial consequences of data breaches or data loss could well make the board liable. This shift in responsibility puts the onus on board members to stay informed about the latest cyber threats and the best practices for mitigating them. Thus, it is unsurprising that 44% of business leaders say they value the expertise of CISOs in translating the technical aspects of cyber security to the CEO and Board – and that cyber security is now a boardroom conversation.
As CISOs advise their board, they must move beyond the technicalities and articulate cyber security as part of a broader picture that incorporates business growth with cyber as a proactive, strategic necessity within the business. However, when it comes to practical implementation, where should they begin?

The role of the network
Securing the organisation at the network ensures that threats are detected and stopped before they reach servers, workstations, and mobile devices. When this network-centric approach is incorporated as part of a multi-layered security strategy, organisations gain better threat intelligence, faster response times, and more effective mitigation of cyber risks.
A network-centric security provider can also safeguard valuable digital infrastructures and mitigate against cyberattacks by offering more contextual information about an ongoing attack. Instead of reacting the same way to every attempted incursion, real-time visibility lets organisations make an informed decision faster and tailor their response based on the severity or impact of the threat. Ultimately, a unified network and security workflow offer greater cyber resilience.
The additional insights let businesses quickly identify anomalies, unauthorised access, and potential security breaches. By staying vigilant and utilising advanced network monitoring tools, organisations can proactively safeguard their valuable data and maintain a strong security posture in the face of ever-evolving cyber threats.

Developing a holistic approach
Building a truly secure environment necessitates a multi-layered security approach, and arguably, only a network provider can truly protect the infrastructure. Specifically, only with real-time monitoring of threats and rapid incident response at the network level can we effectively detect and mitigate potential threats. But building robust, resilient cyber defences is no walk in the park, especially when the network is involved.
In addition, organisations can no longer rely on yesteryear's strategies and tools but must embrace an ongoing, proactive and comprehensive approach that continually adapts to the evolving cyber security landscape. Crucially, this goes beyond addressing the technology, people, or process in isolation, but involves creating a cohesive end-to-end strategy that incorporates all three.
Faced with a protracted, chronic shortage of cyber security professionals, enterprises seeking to develop cyber resilience are turning to network-centric managed security service providers (MSSPs) to enhance cyber resilience and maintain a robust security posture. By partnering with a trusted MSSP, organisations can leverage the expertise, technologies, and an existing cutting-edge network to build a solid foundation for cyber resilience. This ensures a holistic approach to cyber security that leaves no stone unturned.

Conclusion: End-to-end visibility
With decades of experience in designing and delivering networks, Singtel is uniquely positioned to offer a seamless blend of networking and cyber security, for a unified solution that offers comprehensive protection. With a secure-by-design architecture and single pane of glass platform capabilities, Singtel can provide coordinated and prompt response – and recovery, to security incidents.
With end-to-end visibility for the network, endpoints, applications, and the cloud, organisations can manage risks effectively from a centralised console, whether through the endpoint, WAN (SD-WAN), DDoS management, managed SASE/SSE, and Web Application & API Protection (WAAP) in the cloud. This gives businesses central control and helps establish resilience for their security operations by focusing on threat analysis and response as a cyber security capability.

Singtel is exhibiting at GovWare 2023, Asia's premier cybersecurity event. Do visit us at booth M02, and hear from Johnny Kho, Director, Managed Security Services, as he discusses agile SOCs at 2.30 pm @ 17 Oct and Faith Chng, Cyber Program Lead, as she explores building cyber security talent at 10.10 am @ 19 Oct. You can also learn more about our solutions here.