How iAPPS Health Group is Empowering Patients Through Digital Innovation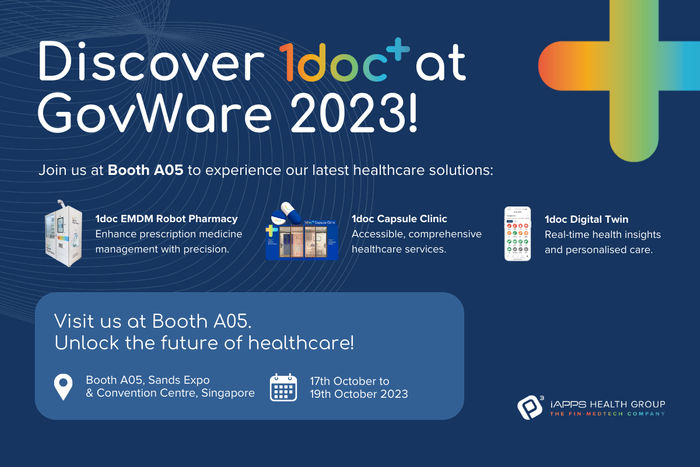 As a practice, human interaction with medicine has existed long before the modern era, with records of it dating back to the earliest chapters of history. In the 19th century, scientific research and technological advancements leapfrogged medicine to present-day standards, enabling doctors to identify and treat different diseases with drugs or procedures.
Since then, healthcare has largely been standardised to a model of in-person identification, diagnosis, and treatment, with the framework having proven to be reliable and effective. But could modern medicine be further advanced, particularly in the wake of a years-long pandemic that cast the limitations of the current system into stark relief?
And in a world racing ahead with digital transformation and AI across just about every industry sector, how can the healthcare industry leverage technology to modernise and innovate?

There's an app for healthcare
What if there is an all-in-one platform to streamline healthcare activities and encourage proactivity on the part of patients? That was the genesis behind the iAPPS Health Group's (iHG) 1Doc app, which has evolved into a comprehensive digital platform for various healthcare interactions, including booking in-person appointments, teleconsultations, and health screenings.
Developed and launched in 2018 by the Singapore-based Fin-MedTech company, the app is part of the group's ethos of developing innovative healthcare solutions, alongside other offerings such as telemedicine and patient engagement tools. Today, the app employs a clever "traffic light" system designed to help patients interpret test results before meeting their doctor.
For instance, if a cholesterol test shows a high reading, a heart icon on the app turns red, reflecting the severity based on health guidelines. Green signifies normal, whilst orange indicates an intermediate status, giving users a handy visual summary of their state of health – two dozen key organs are covered. To help patients understand their health trajectory, the app can also access historical medical reports and visualise their condition over time.
In 2022, the group inaugurated its first integrated medical centre, introducing a unique approach that seamlessly combines various aspects of Eastern and Western medical therapies with a focus on fitness and nutrition. This distinctive approach, exclusive to iHG, will shape the group's future endeavours.
As doctors sometimes we don't believe that patients have enough knowledge to make good decisions. But when you entrust them with that, you see rewards and it's gratifying.
– Dr Eugene Loke, Medical Director, iAPPS Health Group
The Capsule Clinic next door
Another example of the group's efforts in pushing the boundaries of digital healthcare can be seen in its Capsule Clinic, introduced to address the need for controlled healthcare environments for conducting medical examinations. Housed within a small shipping container, the Capsule Clinic features a consultation room, electronic stethoscopes, and cameras for a range of medical examinations, such as those involving the nose, ear, and mouth.
In addition, the Capsule Clinic includes a unique medicine dispensing machine developed by iHG known as the 1Doc Robot Pharmacy. The Robot Pharmacy is a dispensing machine that stands out for its unique ability to dispense prescription medications. By using cameras, robotic arms, and AI smarts to precisely apply printed labels to medication, it complies fully with labelling regulations for prescription medicine in Singapore.
The Robot Pharmacy can be deployed independently of the Capsule Clinic, such as in the lobby of buildings or at the mall. Patients merely need to launch the 1Doc mobile app and scan the Robot Pharmacy's QR code to authenticate, before placing an order or collecting their prescribed medication. In manpower-scarce Singapore. this solves a crucial gap in prescription medicine dispensing.
The holistic Capsule Clinic also offers a self-contained and adaptable healthcare setting for improved community healthcare access such as old folks' homes or neighbourhoods with more elderly people. Communities that lack suitable facilities or space for a traditional clinic can certainly benefit from its full-fledged facilities despite its relatively small footprint.
The initiative goes beyond IT implementation, as its logistical reality requires regular, timely restocking. To support this, a central purchasing office has been established to supply drugs to all 1Doc Robot Pharmacies. For now, at least three Capsule Clinics are currently in operation at various locations in Singapore.

Empowering patients
Technological advancements aside, healthcare is evolving to place a greater responsibility on patients to take charge of their well-being. By empowering patients with easy-to-understand health data and access to telemedicine services, iHG aims to foster a sense of ownership and personal initiative in managing one's health.
On this front, iHG recognised and leveraged the strength of social prescriptions and peer persuasion. The group has already trained scores of individuals as "health coaches" who are tasked to engage with the community and promote healthier living. These health coaches undergo training in communication skills and psychological interviewing, enabling them to foster a positive partnership with patients.
In the future, health coaches may potentially utilise Capsule Clinics at locations without physical clinics to engage with communities and encourage greater health awareness and improvement. If significant health issues are identified, telemedicine services can be availed to connect patients with remote doctors or to schedule a doctor's appointments at the Capsule Clinic.
For iHG, the key to the future of healthcare lies not solely a vertical extension of capabilities, but rather through a horizontal expansion of effectiveness through technology and patient-initiative. And though healthcare is set to enter an unprecedented era of speed and convenience through technology, human-to-human interactions will continue to be the core part of it.

iAPPS Health Group will be present at GovWare 2023. Catch us at our Capsule Clinic there and have a chat with Dr Eugene Loke and his team. You can also learn more about us here.