Singapore to build cyber capacity and more at the Singapore International Cyber Week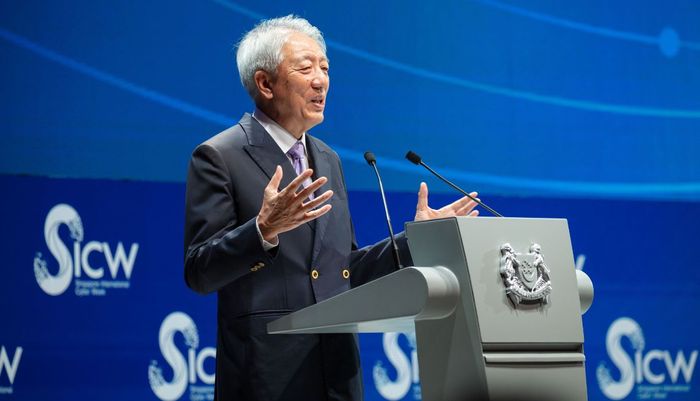 In February 2022, Ukraine was subject to a cyberattack roughly an hour before Russian troops invaded the state. The attack took down more than a dozen Ukrainian government websites and rendered satellite communications inoperable. Although the primary target was believed to be the Ukrainian military, the attack disrupted around 5,000 wind turbines across Germany and affected essential services in broader Europe.
Cyber attacks do not respect national boundaries, said Mr David Koh, Chief Executive of the Cyber Security Agency of Singapore (CSA). Just as states grapple with the cyber-related spillover effects from global conflicts, the landscape is also increasingly fraught with cyber threats which will only grow in frequency and complexity.
Against this backdrop, CSA is gathering international thought leaders, industry experts, and policymakers in the cybersecurity space at the annual Singapore International Cyber Week (SICW) to tackle cyber threats as a team effort.
In its seventh year, the SICW is being held this year from 18 to 20 October alongside the cybersecurity expo, GovWare. CSA made a few key announcements during the Cyber Week on 19 Oct, including plans to build cyber talent capacity in the ASEAN region, as well as helping emerging SMEs practice better cyber hygiene practices.
Closing the cyber talent gap in Asia
One of the key problems that the cybersecurity industry faces is the lack of cybersecurity talent in many ASEAN countries' workforces. Even with the most advanced cyber technologies or infrastructure, organisations would remain largely vulnerable to cyber attacks without the right personnel to oversee and regulate them.
The global cybersecurity industry saw a shortfall of 2.72 million cyber professionals in 2021, with Asia Pacific having the largest regional cybersecurity workforce gap of 1.42 million, according to a 2021 report by The International Information System Security Certification Consortium.
To address this, CSA has partnered with the Global Forum on Cyber Expertise (GFCE) to create a GFCE Southeast Asia Liaison position – a pioneering initiative in the ASEAN region.
The newly appointed Liaison will help Singapore work more closely with existing cyber capacity-building efforts in ASEAN. Starting in 2023, they will help facilitate the exchange of best practices, foster a deeper understanding of the region's cyber capability gaps, and ensure closer coordination and more efficient use of cybersecurity resources across ASEAN countries.
CSA's cyber capacity building programmes date back to 2016, when the agency began running cyber capacity building programmes under the ASEAN Cyber Capacity Programme. It also set up the ASEAN-Singapore Cybersecurity Centre of Excellence Programme in 2019, which has since received SGD$30 million in government funding.
Under these programmes, ASEAN senior officials receive training in the technical, operational, policy, and diplomacy fields in the cyber industry.
One-stop platform for cyber awareness in SMEs
As Singapore builds up its digital economy and more businesses set up shop in the digital space, many more enterprises will become vulnerable to phishing or ransomware threats.
Many SMEs, in particular, lack the awareness or have low adoption of internet security best practices to safeguard their domains, websites, and email servers. This will in turn trickle down into customer safety when the details of their transactions are not properly secured. In fact, a 2019 survey conducted by Chubb on 300 SME leaders found that more than half of them have experienced a cyber attack in the past year – yet more than three in five (63 per cent) believe they are less vulnerable to cyber incidents than large companies.
To tackle this, CSA is launching an Internet Hygiene portal (IHP) to serve as a one-stop platform, providing them with easy access to resources and self-assessment tools for enterprises to adopt internet security best practices in their digitalisation journeys.
The IHP will provide guides on internet hygiene standards, best practices, and self-assessment tools for cyber hygiene. These include important security protocols that will help secure website communications between particles, prevent email spoofing and hijacking, as well as mitigate cache poisoning.
CSA will also provide an Internet Hygiene Rating table that will indicate the cybersecurity level of popular websites to help consumers make more informed choices and safeguard their digital transactions. The table will be regularly updated, starting with a feature on ten popular enterprises in the e-commerce sector to showcase model adopters of internet security best practices.
Subsequently, CSA has plans to expand this to other sectors that are prone to cyber attacks, including the banking and finance as well as healthcare sectors.
Do visit the Singapore International Cyber Week, as well as GovWare 2022 happening at Sands Expo and Convention Centre this year!
This article is originally written and published by GovInsider.