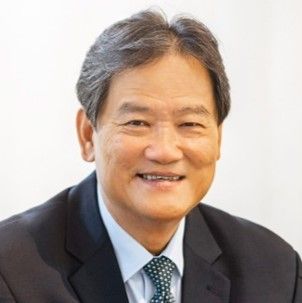 Ng Hoo Ming
Advisor & President for Cybersecurity & Governance Chapter
,
ASEAN Chief Information Officer Association (ACIOA)
Hoo Ming, born in 1961, graduated with a Dip D'Ingenierie Informatique (Computer Science) from Ecole Superieur d'Informatique, France, on the Singapore Public Service Commission Overseas Merit Scholarship.
He was posted to the Information Technology Security Division within the Ministry of Home Affairs upon his return from his study in 1989. He started his career as a security R&D engineer developing Information and communication security products for the Singapore Government. In the later part of his career, Hoo Ming assumed the role of Government IT security consultant in advising IT security need for Government Ministries. He was also involved in numerous national level projects e.g. the electronic road pricing system, the national cash card system and C4I systems with the Ministries of Home Affairs.
In 2005, Hoo Ming was given the opportunity to work in the private sector as the CEO of PCS Security. A company specialises in Homeland and CyberSecurity business. Under Hoo Ming's leadership, the company has successfully won and implemented many large scale projects in Singapore and in the region. During his tenure in PCS Security, he successfully made the company a respected player in the Homeland and Cybersecurity field.
In 2009, Hoo Ming was appointed as the Director in charge of the newly formed Singapore Infocomms Technology Security Authority (SITSA). Its mission is to secure the IT environment of Singapore, especially vis-'-vis external threats to national security which include cyber-terrorism and cyber espionage. He was also responsible in leading the national defensive response to major cyber-attacks against Singapore's national critical information infrastructure.
In 2015, Hoo Ming was seconded to CSA to help build-up the operation capability of the CSA. He was appointed as Deputy CE (National Cyber Resilience) in 2019. As DCE (NCR), he formulates operational policies and initiatives for CSA, strategically engage local, regional and international players in the cybersecurity landscape to facilitate knowledge exchange and information sharing. He also leads the National Cyber Security Command Centre (NCSCC) in operational responses to cyber crisis in Singapore and supports any WOG incident response to major attacks, as well as synchronises and coordinates with other WOG agencies in operational responses, to position CSA as a technical expert and thought leader that is able to anticipate emerging threats and act swiftly to resolve crises in the national cybersecurity landscape. Hoo Ming also serves as member of the executive board of the Cyber Peace Institute, a Geneva based NGO.
Hoo Ming also serves as member of the executive board of the Cyber Peace Institute, a Geneva-based NGO.